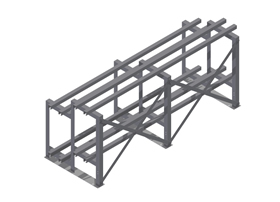 Aptus Non-Seismic Battery Racks, for flooded bateries, offer rugged construction and economical solutions for most needs. All designs have been approved by a California Structural Engineer, meeting the industry's toughest rack design standards. Numerous configurations support most manufacturer's batteries, and satisfy most battery room installation needs.
Aptus flooded battery racks offer smart rack solutions utilizing proven technology combined with advanced features to reduce installation costs. The racks are easy to assemble, designed to fit most manufacturers' battery models, and feature optional UL Listed integrated spill containment systems with neutralization and absorption. High production capacity enables Aptus to ship most common rack configurations in only a few weeks, providing on-time delivery that matches manufacturers' quick ship programs. Stocking programs are available.
All rack frames are fully welded and feature ANSI 61 gray FR acid-resistant epoxy powder-coat to ensure longevity in standby battery applications. Custom racks are available. All racks offer environmental compliance integration. The optional ECO Rack series integrates environmental UL Listed spill containment using new, patent-pending designs. Inter tier tray containment is also available.

Aptus Non-Seismic Battery Racks Features

Frames – 

Steel members covered with ANSI 61 gray FR acid-resistant powder coating

Insulation – 

ANSI gray acid-resistant Rail covers included for all battery rails

Certifications – 

Design stamped and certified by California Structural PE
Configurations Available:
2 Tier 1 Row
1 Tier 2 Step
1 Tier 1 Row
2 Tier 2 Step
Custom Configurations
Stocking programs available to allow for quick ship programs – most common stock orders can be fulfilled within 3 weeks. Lengths typically available from 2 to 20 feet. Splice kits are available for larger sizes.